Demining Western Sahara
As part of our mine action series, Deminer Abdelahi Muesa shares with us what it's like to contribute to demining efforts in Western Sahara.
One of SafeLane's deminers, based in Western Sahara, kindly gave up his valuable time to talk to us a little bit about the vital work he does on project in Western Sahara.
'My name is Abdelahi Muesa, I am 32 years old, married and have one daughter.
Until 2016, I served in the army. During my time in the army, I was aware of the mine action activities in my country and their importance, so when I finished in the army and heard a recruitment call on the national radio for work as a deminer I had to apply.
I already appreciated the work deminers do and so I was pleased to be offered an interview for a position. My application was successful, I joined the basic demining training for one month in the SafeLane Global base and became a deminer.
The army experience I have had and the additional training that has been provided to me enables my successful performance. This combined knowledge helps us deminers speed up the land clearance and release process.
The clearance of land gains respect from the local community and it literally improves their lives.
Large tracts of land within Western Sahara are restricted due to the presence of mines and explosive remnants of war. Clearing this land gives people freedom of movement, safe access to water, and gives children the opportunity to play and go to school without being exposed to danger.
Most of the local community depends on grazing lands. Previously, shepherds were exposed to this explosive risk but now people are happy and grateful for the results project teams achieved in creating safer environments. I feel proud of myself for being part of these efforts.
I work hard to ensure I am always doing my best. I love conducting survey activities. I am aiming to learn more about the non-technical surveys and develop my skills in this area while working with SafeLane because I believe surveying is a key element of mine action activities.'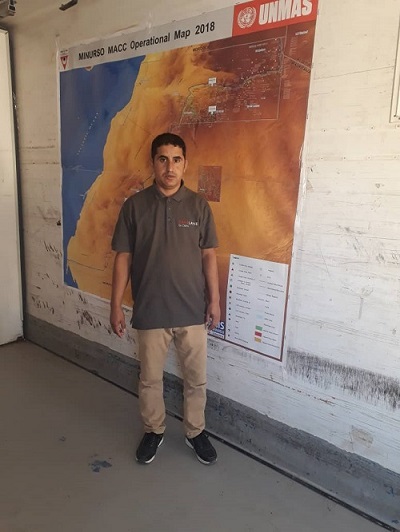 We wish to thank Abdelahi for embracing the opportunity to work as a deminer and for being part of the extraordinary work that is being conducted in Western Sahara. This humanitarian operation is supporting the local people, and the deminers are faced with the challenges that come with working in an austere desert environment.
In spite of those challenges, team members like Abdelahi complete work that makes safe land and makes a significant difference to the opportunities available to the wider community.