What differences do mine action activities make?
EOD Mentor Team Leader Christian Jansson explains the differences that mine action activities make to local communities. #MineActionApril
As this month is #MineActionApril at SafeLane, we (the marketing team) are enjoying getting to know some of our international project staff better. They all have brilliant stories to tell – and we want to share them with you.
Today, we meet Christian Jansson, an EOD Mentor Team Leader who explains why he is passionately committed to the mine action sector.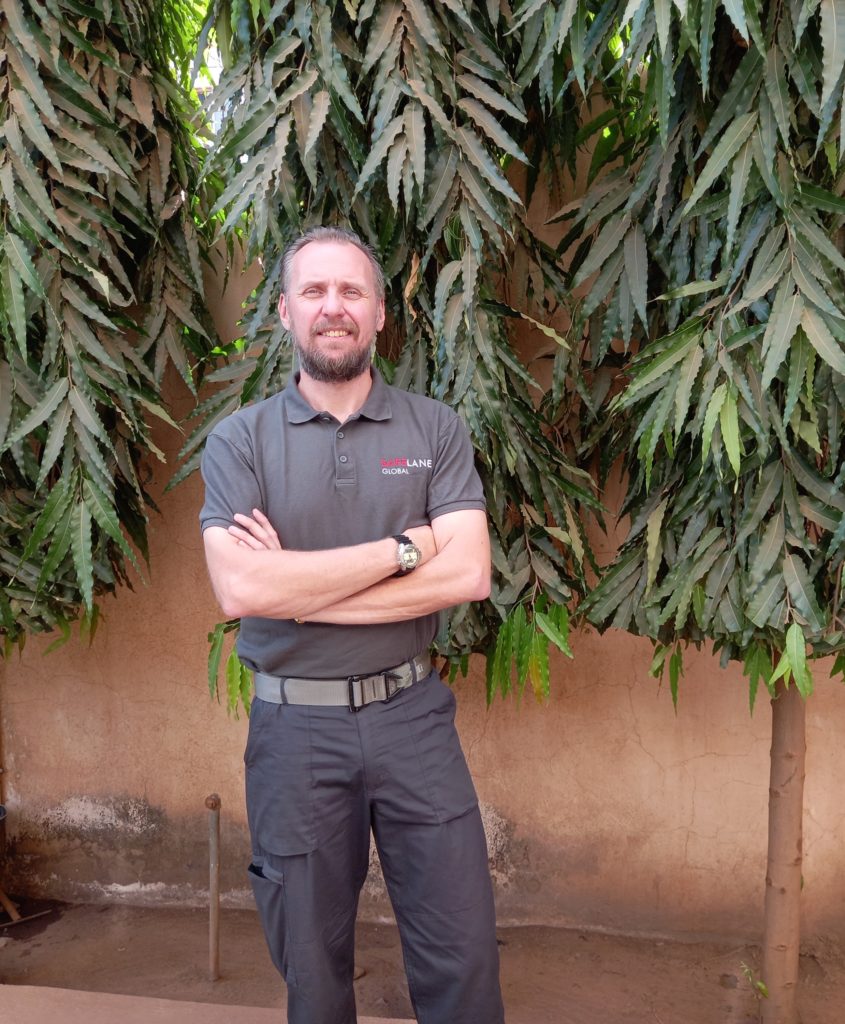 "My name is Christian Jansson, I'm from Sweden. I have two daughters and my wife, Annika. I really enjoy spending time with my family and traveling together. I'm trying to do some running as well and I enjoy cooking for family and friends.
I did my first explosive ordnance disposal (EOD) course in 1999 at SWEDEC (the Swedish EOD and Demining Centre) in Eksjo. After passing the course, I was ready to go to Kosovo in the spring of 2000 to help make a difference.
In 2006 it was time to go overseas again - this time to Afghanistan. I did two more visits to that amazing country in 2007 and 2010, helping to clear safe paths for communities.
I then worked as an EOD Instructor at SWEDEC for almost ten years and was able to go to Iraq in 2019 and work for the UN, teaching EOD to the Iraqi Police Force.
In February of this year, I got the opportunity to join SafeLane Global's humanitarian mine action project in Mali."
How will this mine action project in Mali make a difference?
"We are mobilizing at the moment; I am really looking forward to working on this project as I believe we can offer something unique and very well-prepared that will make a huge difference in enhancing the explosive safety of UN peacekeepers, Malian national authorities and civilians.
My current role is EOD Mentor Team Leader. We will be providing EOD and improvised explosive device disposal (IEDD) mentoring and training to peacekeepers deployed in support of MINUSMA
We will train and mentor Troop Contributing Country EOD teams so they can perform explosive threat mitigation duties in a safe, effective and efficient way, helping the UN stabilization effort, Malian government and people of Mali."
What do humanitarian mine action programs achieve?
"Mine action is one the few sectors where you can see the difference, we make for the people in the area in which we are working. It's a technical job where you have to stay focused the whole time. It's also a great team environment to work in as everyone is keen to share information about any threat that occurs in the area to solve that problem for the local people.
For example, if we remove explosive threats from an area or a road so a farmer can use his land again or a child can play, that keeps us all so motivated. When I was in Kosovo, there was a park area that was very popular for picnics. After the war, the area was contaminated with unexploded ordnance and it was off limits to the community. But because of our work, we were able to clear the area so the people could try to live normal lives again and enjoy weekends in the park area.
In terms of my work now for SafeLane, if we can train and mentor peacekeepers' EOD capabilities so they can assist in ensuring the mission is not hindered by explosive threat. Also keeping roads and areas free from these threats will give the local community safer freedom of movement.
Being able to make this discernible difference makes me proud of the whole team and the wider mine action family."
Thank you Chris and the whole team in Mali – the work you're preparing to do is truly admirable.