Raising funds for charity in Somalia
SafeLane supported the UN sponsored Samia Yusuf Omar Mogadishu Half Marathon today - helping to raise funds for the Aamin ambulance charity in Mogadishu.
Supporting the UNMAS/UN Samia Yusuf Omar Half Marathon
Thank you - and congratulations - to all those from SafeLane who ran in the UNMAS/UN Samia Yusuf Omar Half Marathon in Mogadishu this morning.
The race was coordinated by the UN to raise essential funds for an ambulance charity.
A team of 16 personnel and 10 explosive detection dogs were fielded from SafeLane - and everyone was a winner because they all finished the race!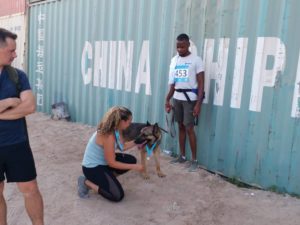 Everyone received a medal for their great efforts - even the dogs.
SafeLane also fielded handlers and vets at certain points on the route; they were on standby with vehicles, water and medical equipment just in case. Fortunately their services weren't needed.
Everyone had a great time participating, essential funds were raised in the name of Samia Yusuf Omar, and the dogs enjoyed a welcome cool off in the sea at the end of the race.
Who was Samia Yusuf Omar?
Sprinter Samia Yusuf Omar grew up in Mogadishu. She trained there during the Civil War, before going on to represent Somalia at the 2008 Olympics in Beijing.
Because of her visibility as a result of the global media's interest in her performance at the Olympics, she received harassment from local militia groups. She chose to hide away from athletics following direct threats.
Samia ended up in a displacement camp before crossing the border to Ethiopia looking for a safe place to train. She held a dream of representing Somalia at the 2012 Olympics in London.
She was then trafficked north into Libya, where she was imprisoned. She managed to escape her imprisonment and attempted to cross the Mediterranean Sea to reach Italy. Tragically, during the 2012 Olympic Games it was discovered that she had drowned off the coast of Libya during her attempt to reach Europe and the London Olympic Games.