Global Gallop fundraising recipients
Last September, SafeLane staff around the world ran in solidarity for the Global Gallop. They raised over £13,000 for victims of explosive accidents. In this news update we add the stories of the fundraising recipients.
Meet the Global Gallop fundraising recipients
Staff from SafeLane's suite of global projects took part in half marathons all over the world on the 29th of September 2019.
They were running to raise money for victims of landmines, improvised explosive devices and explosive accidents.
Having raised over £13,000, the next task for operations managers was to identify beneficiaries and determine how best to provide support as in many cases, a financial donation would be inappropriate for cultural or security reasons.
Fundraiser recipients in Sudan receive victims' assistance workshops
At the end of 2020, SafeLane worked in collaboration with NMAC/NODO to deliver a victims' assistance workshop to families that have been affected by explosive remnants of war in Sudan.
The initial part of the workshop focused on training to increase attendees' awareness of the risks that explosive remnants of war pose to humans and livestock. It is anticipated that this increased knowledge will empower the attendees to become ambassadors equipped to provide risk education to their wider community.
In the second part of the workshop, a doctor attended to speak with those who have been victims of unexploded ordnance. Great care was taken to ensure that children who had been affected were separately addressed so the doctor was able to establish how they have adapted to their life changing injuries. This was done to support their emotional and physical wellbeing.
To finish the workshop, SafeLane Global's Operations Manager and NMAC/NODO Operations Officer hosted a ceremony to formally donate livestock and related assets to the families. These donations had been carefully selected to improve the lives of specific families affected by explosive remnants of war.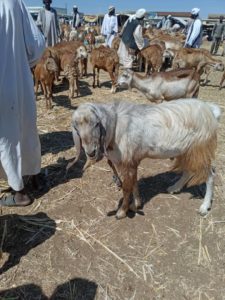 All families passed on their deepest gratitude to SafeLane and the NMAC/NODO for their support, donations, and time.
The NODO Operations Officer in Nyala worked incredibly hard to ensure the successful delivery of this workshop and from everyone at SafeLane, thank you for your support and hard work.
Thank you to the Sudan NMAC/NODO for enabling the SafeLane team to collaborate with like-minded organisations to deliver positive change to those who have been victims of explosive remnants of war.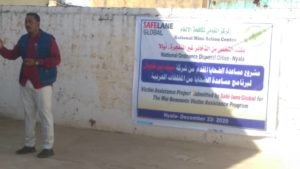 Finally - thank you again to all the Global Gallop participants and the generous donors. Your efforts and donations have made a discernible positive difference to many lives.
Recipients of funds in Vietnam
SafeLane donated to Project RENEW in Vietnam to help two survivors of explosive ordnance in Trieu Phong District. The donations have enabled them to now take even better care of their own families with confidence.
Triple amputee Hoang Than of Ai Tu Village of Trieu Ai Commune today beamed with satisfaction as he watched his wife and daughter prepare lunch in their new kitchen. The couple and their two children, a 14-year-old son and a 10-year-old daughter, can also sleep soundly without constant worries of leaking rainwater, as their house's old roof and eaves have been replaced and repaired.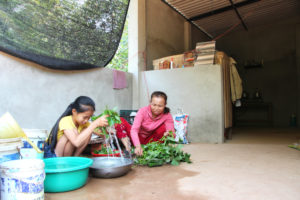 The 49-year-old father also got a brand-new customised three-wheel motorcycle to replace the old tricycle he depended on for his daily commute.
In 1991, Than lost one hand and both legs, below the knee, in an explosion of wartime ordnance. Than was searching for scrap metal when the tragic accident happened. Permanently disabled at the young age of 20, he was fortunate to get married to a girl in the same village who had loved him before his accident. Their first child, a son, was born in 2000. Two years later, they managed to construct a small wooden house with their limited savings.
A second son was born in 2006, but the couple's joy was short-lived when the older son died in a traffic accident that same year.
"The support from Project RENEW and the community has helped me a lot to keep on going," Than said. "I am grateful for their support, which has been strong motivation for me and my wife to strive for a better future for our children."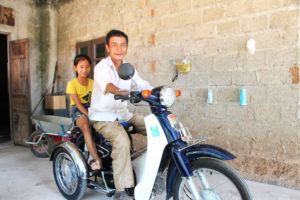 About 10km away from Trieu Ai Commune, landmine survivor Do Thien Dang of Trieu Long Commune is making good use of his new electric tools to cut, reshape, and fashion bamboo inside his newly equipped production facility, with improvements funded by the Global Gallop.
Dang lost both legs when he stepped on a landmine in 1980 at age 20. He was collecting wild thatch, then a popular material that locals used to roof their houses. Dang went on to get married and have three children. Project RENEW supported Dang in growing mushrooms and later making bamboo products to earn extra income.
In the village of Bich Khe where he lives, Dang has been much respected for the tender care he gave to his invalid, bed-ridden mother, despite his own disabilities. Since his mother died in March 2020, Dang and his wife now live alone as their children have moved out.
"With these new electric tools and this improved production facility, I now can work much more easily and earn more income," Dang said. "I sincerely want to thank the donor who has helped me improve my life."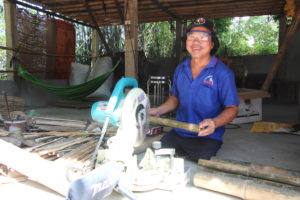 The 60-year-old grandfather earns about 150,000VND, the equivalent of US$6.50 per day from making bamboo wreaths which he sells to local floral shops in Quang Tri Town.
Hoang Than and Do Thien Dang are among many survivors of explosive ordnance who have overcome their tragic accidents to rebuild their lives, thanks to their own efforts and to support from their communities, and now with assistance from SafeLane via Project RENEW.
The first recipients were the Qader family from Afghanistan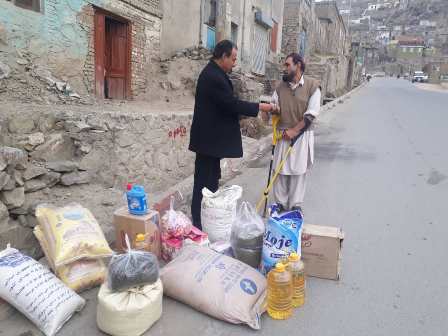 Mr. Abdul Qader was a professional driver, but in 2015 the car he was driving was hit by an explosion from a mine.
Mr. Qader sustained severe injuries resulting in the loss of one leg and the loss of the other leg from the knee downwards. Despite receiving medical treatment he has also been left visually impaired and in constant pain.
As a result of his injuries Mr. Qader is no longer able to drive for a living and has to work as a daily labourer when work is available.
He has a wife and 3 school-age children, 2 daughters and a son. After paying the monthly rent there is limited money to feed his family.
Thanks to all the exceptionally generous donors and the incredible participants in the Global Gallop, SafeLane can now make a significant contribution to life support, medical treatment for Mr. Qader and schooling costs for his children.
Supporting the Fazluddin and Jamila families in Afghanistan
Mr. Fazluddin's only son was killed in a suicide attack in Kabul in 2017. The shock and grief caused Mr. Fazluddin ongoing medical problems which have resulted in him suffering mobility issues.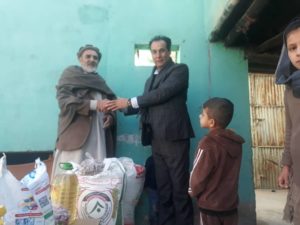 Following the death of his son, Mr. Fazluddin is responsible for the care of his wife, daughter, daughter-in-law and 3 grandchildren.
Thanks to the wonderful runners who took part in the Global Gallop and all the exceptionally kind donors, SafeLane is able to support the Fazluddin family with the purchase of essential food items, medical treatment and education for the three grandchildren.
Mrs Jamila is a widow whose son was killed in a suicide attack in Jalalabad city in eastern Afghanistan. She supports her widowed daughter-in-law and two grandchildren. They live together in very difficult conditions and find it hard to afford even the basics of food and heat.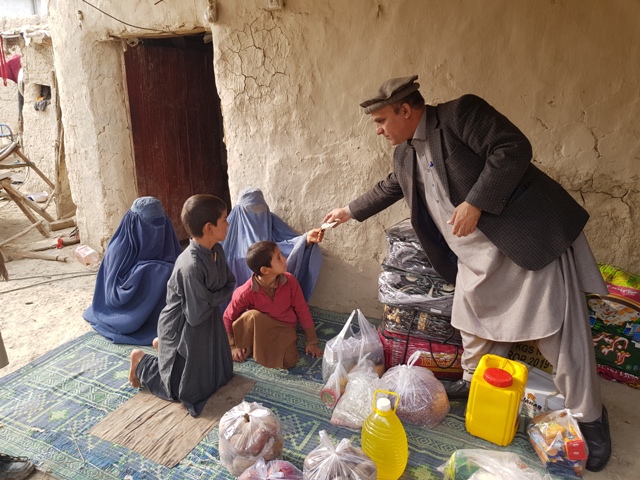 SafeLane's support will enable them to move to better accommodation and afford food and heat throughout the fast approaching winter as well as education for the children.