International Disaster Response Expo
Global Director of Operations, Chris Clark MBE MC gave a presentation to the International Disaster Response Expo about C-IED training and forward mentoring in a modern conflict.
International Disaster Response Expo:
A decorated former British soldier, Chris spent 12 years developing mine and UXO clearance programmes for the UN in conflict areas.
For the past 5 years Chris has directed SafeLane Global's myriad projects, managing a continually evolving explosive threat through the application of substantive experience and innovative solutions.
As part of his attendance at the International Security Expo (Nov 28 & 29), Chris gave a widely attended and very well-received talk at the International Disaster Response Expo on the 29th of November at 13.45 in Theatre 8.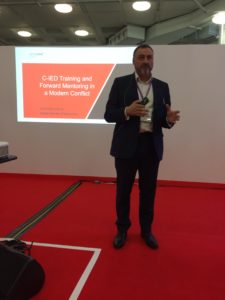 Here's an overview of the subject matter he discussed:
C-IED Training and Forward Mentoring in a Modern Conflict
Evolving threat landscape, international and national response
Military vs civilian deployment
Active engagement: relevant actors, operational challenges and the contribution of SafeLane Global
Somalia tomorrow: key considerations in the handover to Somali Security Forces
Contact SafeLane Global to arrange for expert participation at your next event, to arrange expert comment for your publication, or to establish a meeting with Chris and the leadership team to discuss how SafeLane's services and solutions could assist you.