Governor of Falkland Islands removes minefield sign Goose Green
Governor of the Falkland Islands today marked significant milestones in the Falkland Islands' history.
SafeLane Global was proud to host His Excellency Mr Nigel Phillips CBE, Governor of the Falkland Islands and Her Majesty's Commissioner for South Georgia and the South Sandwich, for two significant milestones in the Falkland Islands' history.
On Friday 16th February 2018 the Governor attended the demolition of the last mines cleared from Mount Longdon.
As the scene of some of the heaviest fighting during the 1982 Falklands War, this former battlefield had been heavily mined with anti-personnel and anti-tank mines. A crowd assembled to watch as the SafeLane Global team destroyed over 100 of the last remaining mines.
The Governor joined SafeLane Global again on Monday 19th February to visit Goose Green, which SafeLane Global has now freed from the threat of mines.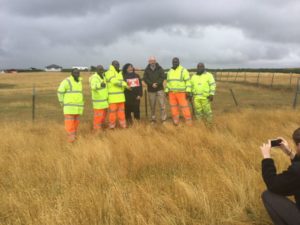 His Excellency was invited to remove the last minefield sign in Goose Green, which has become the first settlement to be cleared: he commended the exceptional work of SafeLane Global's demining teams in a speech to those gathered.
SafeLane in the Falkland Islands
SafeLane Global has been operating in the Falkland Islands since 2009. During this time its international team has been warmly welcomed and formed close ties within the local community.
The company's Technical Director, John Hare, has been with the project since its inception. Having been wounded during the Falklands War, John has his own personal connection to the Islands from his years serving with the British Army's Royal Engineers.
This commitment to the area, combined with SafeLane Global's personnel's professionalism and experience, has enabled the recent extension of its contract. The company looks forward to achieving the complete clearance of the Falkland Islands as it enters the final stages of the task begun in 2009.
Quote from CEO, Rob Hunter
SafeLane Global CEO, Rob Hunter, said, "Working in close partnership with the UK's Foreign and Commonwealth Office, [SafeLane Global] is proud to be part of such an important project. The UK Government's continuing commitment to Mine Action will see the islands declared free from mines in just a few short years."