Staff Spotlight with Ryan Prophet
This week's Staff Spotlight focuses on Ryan Prophet, Project Manager for the marine department who has a long held love of the ocean.
Staff Spotlight: Meet Ryan Prophet, SafeLane's newly promoted Marine Director
Staff Spotlight is a regular SafeLane feature that highlights the calibre of the team you can expect to work for you.
This week, Marketing Manager Mary Pipikakis caught up with newly promoted Ryan Prophet to discuss his life-long love of the sea, the benefits of a career at SafeLane, and the challenges and learning opportunities of his role.
How long have you been at SafeLane and what did you do before joining?
Hmm, it's coming up to 2 years now. Before working for SafeLane I was an Offshore Party Chief for a geophysical surveys company.
I'm sensing that isn't quite what it sounds like and you weren't organising wild parties at sea?
Ha ha, not in this instance! Essentially, with a lot of the larger offshore surveys, you have a vessel which is like a mobile office. Key personnel include a Captain and Party Chief.
The Party Chief handles a range of tasks including client liaisons and survey management. Think of it as an offshore project manager.
So, how did you end up working in the marine space?
Well, my entire life has been marine based. I've been in and out of the sea all my life, ever since I was a kid. I'm a keen diver, fisherman, and surfer. I think this passion for the water peaked my interest, so I did a degree in marine geography. I guess I decided to mix work and pleasure and work for SafeLane!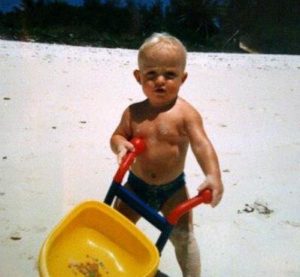 I'm also really interested in physics and science. Although my degree was Marine Geography, it was actually a Bachelor of Science, so there were large elements of psychics and mathematics.
You learn a lot about the underwater world for example, oceanology modules helped me understand tidal movements and the effect the ocean has on our daily lives.
Why did you decide to apply for a job at SafeLane?
One of the major problems of working as a Party Chief is working away from home. I was spending 4 - 6 weeks on a vessel usually in the North Sea location.
A lot of people live with that lifestyle and do a month on, a month off and it really works for them, but I wanted to be office based to spend more time with my family.
What is the favourite part of your job as Marine Director?
The favourite part of my job is pretty much being involved in the entire process. I love and take pride in the technical work I do on bids.
Then when the bid is won, I enjoy putting the effort in to plan the campaign, the methodology and to organise personnel.
For me this means it is a lot of throwing balls in the air and trying to landing them in the right spot, I take a lot of joy in that. It is a great process.
What is the most interesting thing you've learned working at SafeLane?
The team has a really collaborative approach. We all spend time learning from each other.
The main skill I've been able to develop at SafeLane is my commercial awareness.
In previous roles, being based offshore meant my commercial awareness was all about the data. Now I know a lot more about contracts, client relations, and the bidding process.
I've also learnt a lot from Chas, our former Marine Director. He has a lot of background knowledge and a very focused direction.
What is the most interesting thing you've done at SafeLane?
The coolest project I've worked on was based in Vietnam. It's so far away, it's just a really different culture and although I've visited, working there was very different.
It was challenging working out the best ways of sourcing equipment and getting it shipped and ensuring it was configured correctly. Our planning had to be really thorough and consider contingency and redundancies.
I'd never worked in Vietnam or set up a real-time kinematic (RTK) base station in Vietnam! We had issues with equipment and language, but we had the skills needed to overcome these challenges. We succeeded in what we needed to do and learnt a lot during the process.
This was by far the most challenging project I've done, but that is why I found it the most enjoyable to be involved in so far.