Day in the life of a SafeLane deminer in Mozambique
Meet Magalhaes, a SafeLane deminer working in Mozambique, clearing a path through heavy bush and risking his life to keep his community safe.
Mozambique is a stunning country that boasts a wealth of natural resources. However, because of historic conflict which resulted in the nation being widely affected by landmine and unexploded ordnance contamination, these resources have been under-utilised - until now.
Mozambique: a haven of natural resources and renewable energy sources
Natural resources include, but are by no means limited to:
High quality iron ore,
The rare mineral tantalite,
Gold,
Graphite,
Marble,
Bentonite,
and limestone.
As well as its valuable natural resources, solar levels and trade winds make Mozambique an ideal location for investment into the development of renewable energy.
Thanks to political stabilisation after the peace accord of 1992 and the years of demining and battle area clearance that followed, Mozambique is now a safer country ready for international investment. Consequently, many of the world's leading energy companies are planning developments in-country.
In spite of a steadily growing GDP, Mozambique is still a developing country that is deeply affected by poverty. New green energy developments can create employment opportunities for local nationals, as well as helping the world move towards a future fuelled by clean, renewable energy.
SafeLane: supporting the safe development of construction, infrastructure and energy projects in Mozambique since 2004
SafeLane Global (formerly BACTEC) Mozambique Lda. has been working in Mozambique, demining and mitigating the risks of all explosive threats since 2004. The team knows the landscape, the risks, and has proven their value for humanitarian, governmental, and commercial clients alike, keeping their clients' personnel safe and their projects on track and on budget.
Meet just one of our dedicated team of deminers, all of whom work loyally for SafeLane to mitigate explosive and environmental threats to our clients:
SafeLane's deminers - protecting lives in Mozambique with unexploded ordnance clearance
My name is Magalhaes Mario Nihitsala, I was born 26-05-1965 and I reside in Boane. I am married to Olga Albino Sitoe.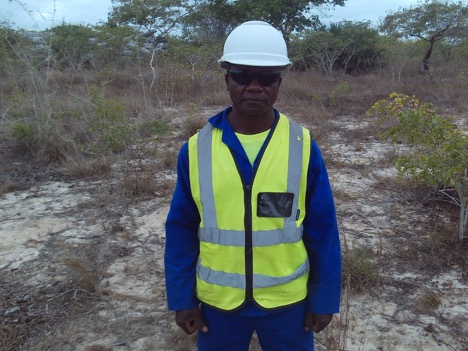 I started in the demining industry in 1994 and my first contract was as deminer abroad in Lebanon and then in Iraq.
I have been working as a deminer for 26 years; I have learned a lot over this time period and have gained a lot of experience in many different parts of the world. I started with SafeLane Mozambique in 2008 and I am still working for them to date.
I love every single moment of my work as knowing that what we do plays a vital role in keeping the Mozambican communities safe is very rewarding.
My day normally start at 4 o'clock in the morning. I shower and head to breakfast ready for our first group safety briefing at 5:45am.
At 6:00am we leave the camp and each team travels to their work site. The travel time varies depending on where the worksite is for the day, but can be anywhere between 30 minutes to 2 hours travelling through thick bush on dirt roads.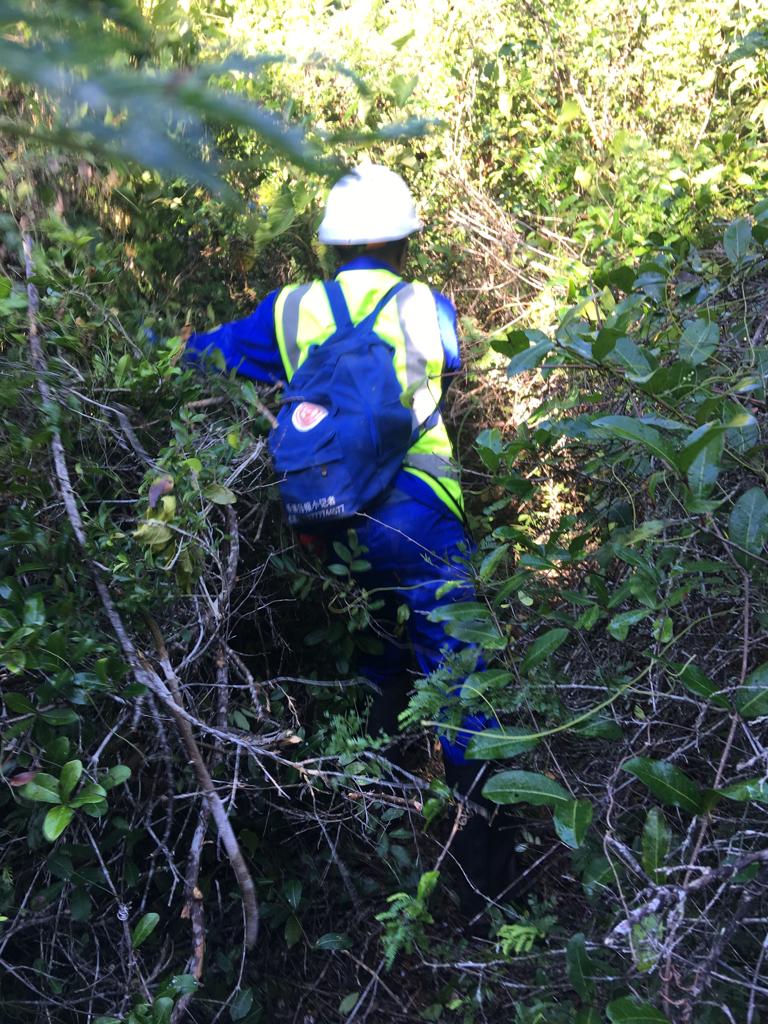 Beginning battle area clearance
Arriving on site, the team leader gives a battle area clearance (BAC) safety brief and task brief for the day. After the briefing, we start our preparations for work by testing detectors, testing communications and checking our individual personal protection equipment (PPE).
We also confirm that our team members have all that is needed for the day. Our team normally consists of a team leader, medic, 2 x deminers and 1 x driver.
My task is clearing a path with my Schonstedt detector for subsurface search and/or visual surface search of the area.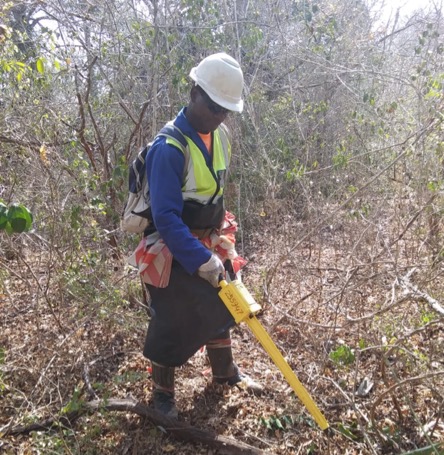 I ensure that the lane ahead is safe for the bush clearing team that will be working behind us.
By doing this I need to also cut down vegetation that will hinder my task and this is very thorough work as the African bush is very thick and dense.
Creating safe lanes in Mozambique
We mark the area where we have cleared for our safety and for the safety of the people that will be working behind us.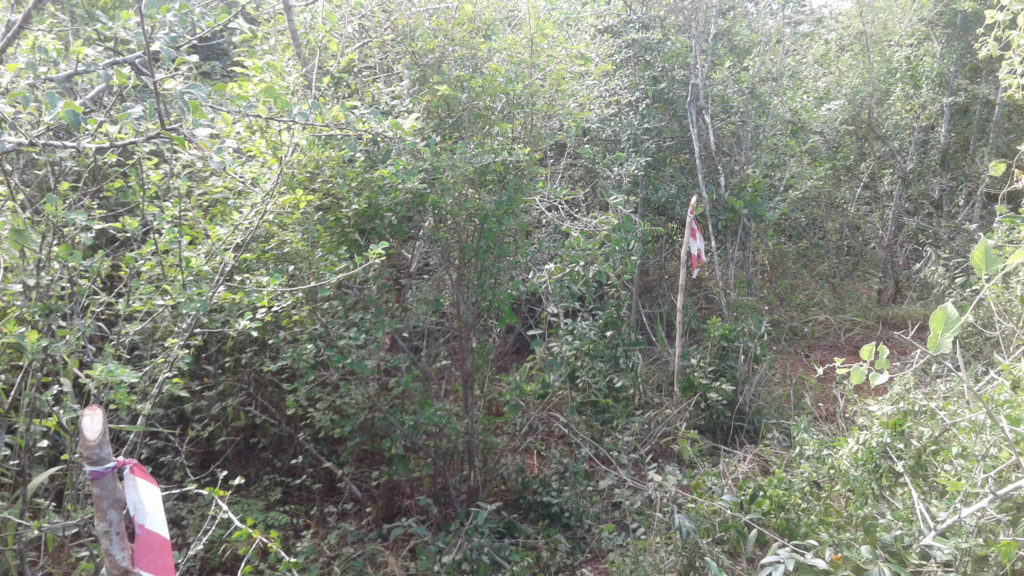 We normally follow a plotted route that was supplied by the client and must stay inside the perimeter required by the client.
Normally we work in turns of 45 minutes and then have 10 minutes break for our own safety.
At 12 o'clock we take our lunch break for 1 hour and then return to work.
When working in the African bush, you need to constantly pay attention to what you are doing and what is around you, as there are many threats present. There are very poisonous snakes and poisonous trees and vegetation present, not to mention the wild bees that we often encounter.
We also must take great care to coordinate and mark caves, anthills, trees and flora that are protected in order to preserve the Mozambican ecosystem.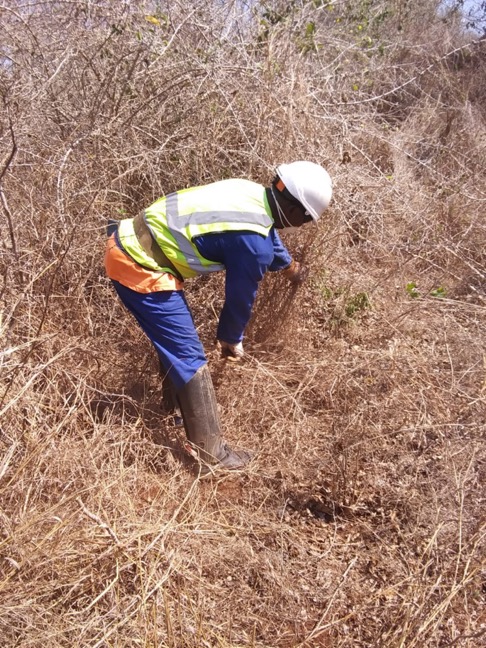 At end of each day we close our lanes by marking the area and reporting via radio that the task for day was completed safely.
When we return to our control point we check that we have all equipment with us. We then start cleaning our equipment for the next day and the team leader will also conduct a debrief of the day's work and the challenges we have faced.
We communicate via the radio that we are returning to the base camp.
When we arrive at camp at 18:00 we off-load the equipment and repack our kit ready for the following day.
Then I get the opportunity to take a shower and have some much-needed rest and relaxation before we start again the following morning.
This is just a normal day in the life of a deminer working in Mozambique.
How we can support your Mozambique project's successful delivery
Understanding the contamination history of your particular project site is the first step to determining what steps, if any, you will need to take to ensure explosive remnants of past conflict don't impact the progression of your project. SafeLane Global will provide you with this intelligence in the form of a detailed desktop threat assessment.
Further, as an end-to-end explosive threat mitigation service provider, if there is a requirement to survey or clear your site, provide a watching brief or train your staff, we will package our services for you. We can even employ a dedicated snake handler - after all Mozambique is home to 78 types of snake - 13 of which are deadly!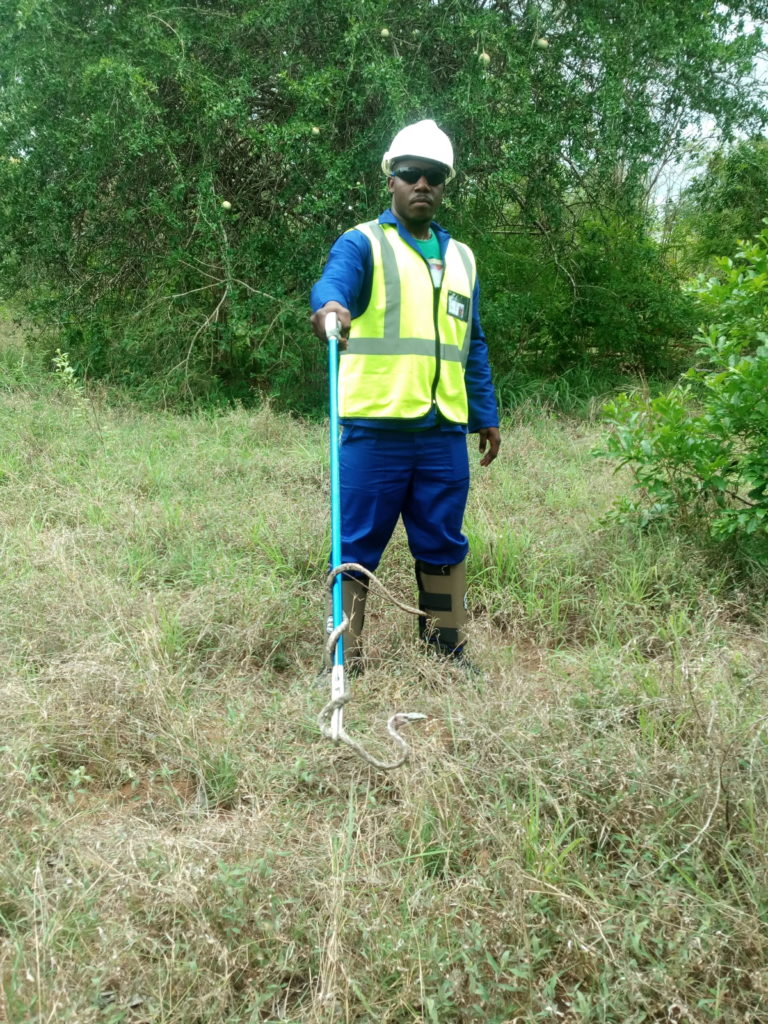 Keep your team safe and your project on time. Contact SafeLane today to mitigate your risk.